Hi Infidelity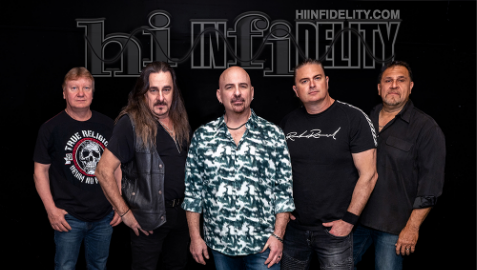 Details
---
Date: June 11, 2022
Time: 6:30 pm – 10:30 pm
Series:
Genre:
This ticketed event is free to children ages 12 and under, $15 for those ages 13 and above and $10 for veteran and active military and their immediate family members.
Schedule
---
5:30 PM Doors Open
6:30 – 8:00 PM Marlon & the Shakes
8:30 – 10:30 Hi Infidelity (80's Cover Band)

---
Hi Infidelity (80's Cover Band)
8:30 – 10:30
Hi Infidelity is a cover band from the Chicago area, playing music of all types, but mostly 80's Rock like Journey, REO, Bon Jovi and Boston to name a few. The band has been voted Best Cover Band over the years in local fan polls!

Going to a Hi Infidelity show is a total concert experience from start to finish, with a wide variety of songs. Not only do they cover the classics but they are currently playing some new music, too.

The band prides itself in recreating the songs as you know them and boasts the best harmonies around. If you love great vocals, are a fan of the 80's classics and the best new music, get tickets today! You'll see that Hi Fi has really got it covered!
---
The following items are prohibited from being brought into the venue:
Outside food and beverages, including alcoholic beverages
Tents/canopies are prohibited
Pets (other than service animals)
Weapons of any kind
Fireworks of any kind
Note: Not all Venue 1012 events will have the same policies.